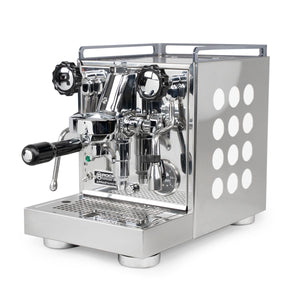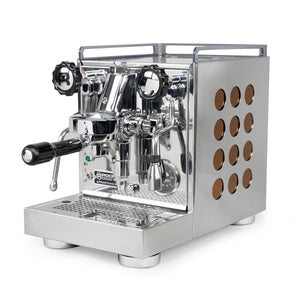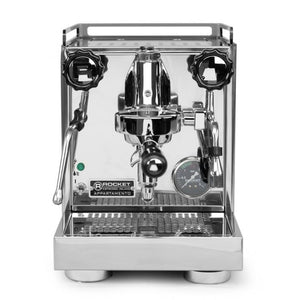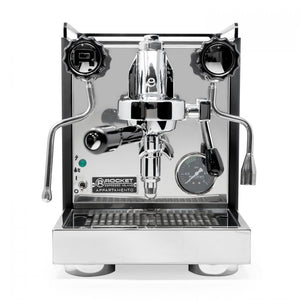 Classic Semi-automatic Espresso Machine
Polished Stainless Steel Case
Hand-built in Milan, Italy
Heat-Exchanger
Features
Rocket Design- A flashy update to Rocket's (already showstopping) design, the Appartamento will draw stares from everyone who enters your kitchen.
Heat Exchange Boiler- A 1.8-liter heat exchange steam boiler allows you to brew espresso and froth milk at the same time.
Heated Group Head- A small flow of water off the boiler keeps your machine's group head warm for more consistent shot temps.
Small Footprint- The reduced dimensions of the Appartamento suit it for small counters and space-restricted kitchens.
Manual Control- Learn to brew all on your own with mechanical steam and brew controls.
Model Number

Appartamento

Manufacturer

Rocket Espresso

Width

10.5 inches

Depth

17 inches

Height

14.25 inches

Product Weight (lbs.)

45

Watts

1200 W

Volts

120V

Programmability

No

Case Material

Stainless Steel

Boiler Material

Brass/Copper

Cup Clearance

3.5 inches

Material

Stainless Steel

Boiler Volume

     1.8 L

Reservoir Size

     2.5 L

Solenoid Valve

     Yes

Cup Tray

     Yes

Portafilter Size

     58mm

Available Portafilters

     Pressurized, Non-Pressurized, Bottomless

Boiler Design

     Heat Exchanger

Certified to NSF/ANSI Standards

     No

Pod Friendly

     No

Water Sources

     Reservoir/Internal Tank

Auto Shut Off

     No

Auto On

     No

Pre-Infusion/Aroma

     Yes